Pediatric Dental Care in Mississauga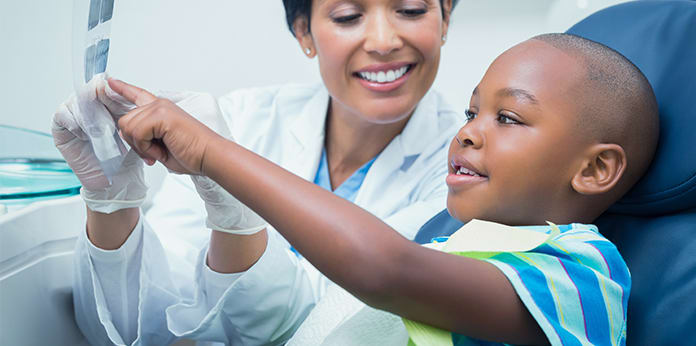 At Creditview Dental in Mississauga, we make it our mission to create positive early dental experiences for children so they can feel good about visiting the dentist today and into adulthood.
Caring for Young, Developing Smiles
When your child visits us for an appointment, we'll be sure to help make them feel as comfortable as possible so they can be more likely to maintain good oral health habits to keep their growing smiles healthy and happy.
The Importance of Early Dental Visits
Infants should be seen by a dentist between the time they turn 6 months old and their first birthday. By this time, the baby's first teeth, or primary teeth, are beginning to erupt and it is a critical time to spot any problems before they become big concerns.
Every child grows 20 primary teeth, usually by the age of 3. These teeth are gradually replaced by the age of 12 with a full set of 28 permanent teeth, and later on, four molars called wisdom teeth.
It is essential that a child's primary teeth are healthy because their development sets the stage for permanent teeth.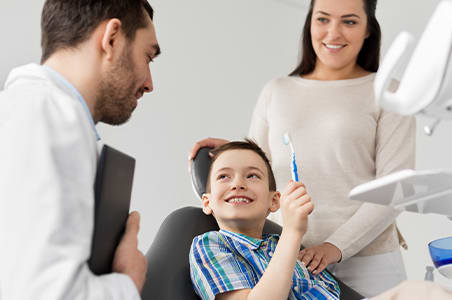 Common Early Dental Issues
The following issue or conditions in babies and young children can create problems for their oral health later on. Dentists can help address and monitor these issues as your child develops.
Dental Services for Kids in Mississiauga
Regular dental care is just as important for kids as it is for adults. At Creditview Dental, our services can be tailored to meet your child's oral health needs and keep their smile healthy.
Hygiene & Prevention Services
Visiting the dentist for regular exams and cleanings when your child is young will help preserve the primary (baby) teeth until they are ready to fall out and be replaced by the permanent (adult) teeth.
During each appointment, your dentist or hygienist will also review proper oral hygiene techniques with your child to ensure that their smile is getting the proper care at home.
Restorative Services
If your child is at risk of decay, develops a cavity or is experiencing misalignment issues, your dentist may also recommend restorative treatment options, such as dental sealants, fillings and mouthguards. 
Canada Dental Benefit for children under 12
Starting in December 2022, eligible families that do not have dental insurance can receive up to $650 per child to cover dental expenses, depending on household income. Eligible services include oral surgery and diagnostic, preventative, restorative, endodontic, periodontal, prosthodontic, and orthodontic services.*
Household Income
Maximum Annual Benefit
per Child**
Under $70,000
$650
$70,000 to 79,999
$390
$80,000 to $89,000
$260
You can apply for the benefit through the CRA. To find out if you are eligible, visit the Government of Canada website.
*Services are subject to change, as indicated by the government of Canada.
**Benefit coverage amount is subject to adjustment, as indicated by the government of Canada.
Welcoming New Patients
Looking for a dentist in Mississauga? You're in the right place!
Request Appointment
Location
6085 Creditview Rd Unit 8 & 9,
Mississauga,
ON
L5V 2A8
CA
Phone Number
Hours of Operation
Monday:

09:00 am - 06:00 pm

Tuesday:

09:00 am - 06:00 pm

Wednesday:

09:00 am - 06:00 pm

Thursday:

09:00 am - 06:00 pm

Friday:

09:00 am - 03:00 pm

Saturday:

Closed

Sunday:

Closed

*Open alternate Saturdays
Navigation