Periodontics (Gum Therapy)
At Creditview Dental, our dentists offer treatment options to help Mississauga patients prevent, manage and treat gum disease and protect their oral health.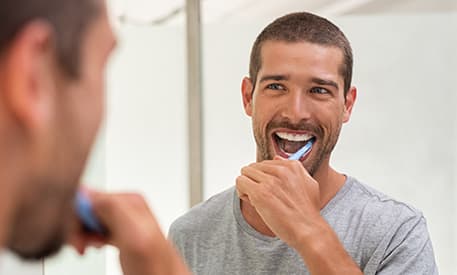 What Is Periodontics?
Periodontics refers to the branch of dentistry concerning the gums and soft tissues of the mouth. Periodontal care can include the treatment of gum disease, cosmetic gum procedures and placement of dental implants to replace missing teeth. 
What Is Periodontal (Gum) Disease?
Gum disease is an infection of the tissues of the mouth, including the gums, gingiva, alveolar bone, cementum, and periodontal ligament. Untreated, gum disease typically progresses in the following stages:
Gingivitis
Gingivitis is the first stage of gum disease. Plaque and its toxin by-products irritate the gums, making them tender, inflamed and more likely to bleed.
Periodontitis
If left untreated, plaque will harden into tartar. As tartar and plaque continue to build up, they cause the gums to begin to recede from the teeth. Eventually, pockets form between the gums and teeth, which become filled with bacteria and pus. The gums become irritated and inflamed and bleed easily. Patients may also experience light to moderate bone loss in the jaw.
Advanced Periodontitis
The teeth lose more support as the gums, bone and periodontal ligament continue to deteriorate. Unless treated, the affected teeth will become loose and may even fall out. Patients may also experience moderate to severe bone loss in the jaw.
Gum Disease Therapy
Periodontal treatment methods depend on the type and severity of the disease. If the disease is caught in the early stages, preventative therapy will be recommended. Otherwise, your treatment will fall into one of the following categories:
Non-Surgical Gum Therapy
Non-surgical gum therapy (scaling and root planning) may be sufficient to reverse milder forms of gum disease.
Dental scaling is the removal of plaque from the tooth's surface just below the gum line. 
Root planning reaches deeper under the gum line to smooth the surface of the tooth's roots. This process makes it possible for the gums to reattach properly.
Surgical Gum Therapy
For patients with more advanced forms of gum disease (periodontitis and advanced periodontitis), more invasive surgical treatments may be necessary. 
There is a variety of surgical gum therapies, including gum grafting and bone grafting.
Post-Treatment Maintenance
After your initial periodontal treatment, our dental team will recommend that you undergo regular dental examinations and preventive therapy, usually four times a year.
Good at-home oral hygiene practices is also essential in keeping periodontal disease at bay.
Welcoming New Patients
Looking for a dentist in Mississauga? You're in the right place!
Request Appointment
Location
6085 Creditview Rd Unit 8 & 9,
Mississauga,
ON
L5V 2A8
CA
Phone Number
Hours of Operation
Monday:

09:00 am - 06:00 pm

Tuesday:

09:00 am - 06:00 pm

Wednesday:

09:00 am - 06:00 pm

Thursday:

09:00 am - 06:00 pm

Friday:

09:00 am - 03:00 pm

Saturday:

Closed

Sunday:

Closed

*Open alternate Saturdays
Navigation