Mouth Guards in Mississauga
At Creditview Dental in Mississauga, our dentists provide custom-made mouthguards for sports and sleep, to help protect your teeth and your oral health.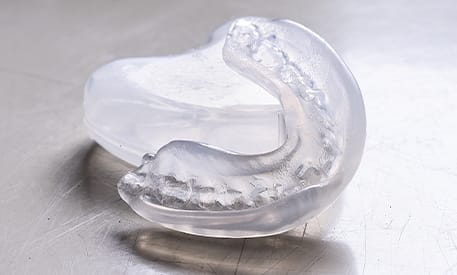 Custom Mouthguards in Mississauga
A mouthguard is a custom-made tray that fits over your teeth. Worn during sports, it can protect your teeth from injury. Worn during sleep, it can protect them from the effects of grinding and clenching.
Sports Mouthguards in Mississauga
Your dentist can create a custom mouthguard to protect your teeth from injury during sports and other activities where there's a chance that your face will come into contact with another person or object.
If you get hit in the mouth, a mouthguard acts like a cushion that absorbs the impact more evenly. It provides a barrier between your teeth and gums, helping to prevent injuries like chipped or broken teeth and cuts to the mouth.
Night Mouthguard in Mississauga
Your dentist can also create a custom nightguard for you to protect your teeth while you sleep. Depending on the application, a nightguard may be either a bite splint or a bite plane.
If you grind your teeth (bruxism), a nightguard will act as a barrier to help protect your teeth from damaging each other while you sleep.
If you suffer from TMJ disorder, a nightguard can help prevent you from clenching your jaw and give you some pain relief.
Welcoming New Patients
Looking for a dentist in Mississauga? You're in the right place!
Request Appointment
Location
6085 Creditview Rd Unit 8 & 9,
Mississauga,
ON
L5V 2A8
CA
Phone Number
Hours of Operation
Monday:

09:00 am - 06:00 pm

Tuesday:

09:00 am - 06:00 pm

Wednesday:

09:00 am - 06:00 pm

Thursday:

09:00 am - 06:00 pm

Friday:

09:00 am - 03:00 pm

Saturday:

Closed

Sunday:

Closed

*Open alternate Saturdays
Navigation