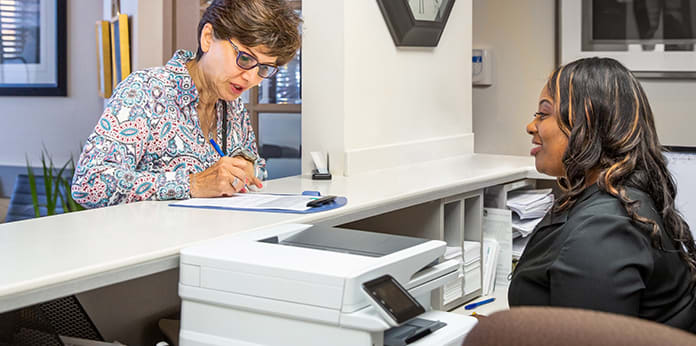 At our Mississauga dental clinic, patient care is important to us. Find out what you can expect during your first visit with us, along with helpful resources and office information.
Before Your First Appointment
Please fill out our New Patient Form to save yourself some time before your forest appointment at Creditview Dental.
*IMPORTANT: Any form submitted by email must be encrypted, to ensure it is secure. By submitting an unencrypted email form, you are consenting to an unsecured email. Alternatively, please print off the form, complete it, and bring it to our office.
Your First Visit: What to Expect
Your first visit to Creditview Dental establishes a vital foundation for our relationship with you. We look forward to meeting you!
STEP 1
Examination
Your dentist will talk to you about your oral health needs and complete a thorough exam of your gums, teeth and jaw, which will include an oral cancer screening and X-rays.
STEP 2
Treatment Plan
Based on your medical and oral history and exam, your dentist will develop a long-term treatment plan for you.
STEP 3
Book Your Next Appointment
Whether it's for a routine hygiene appointment or for a dental restorative procedure, our friendly staff can help you schedule your next visit to our office. 
Office FAQs
Read these frequently asked questions to learn what to expect at our dental office.
Support for Anxious Patients
Anxiety or fear around dental appointments is very common, and it can prevent people from getting the dental care they need.
The team at Creditview Dental has a number of practices in place, including dental sedation options, to help you relax during your appointments.
Welcoming New Patients
Looking for a dentist in Mississauga? You're in the right place!
Request Appointment
Location
6085 Creditview Rd Unit 8 & 9,
Mississauga,
ON
L5V 2A8
CA
Phone Number
Hours of Operation
Monday:

09:00 am - 06:00 pm

Tuesday:

09:00 am - 06:00 pm

Wednesday:

09:00 am - 06:00 pm

Thursday:

09:00 am - 06:00 pm

Friday:

09:00 am - 03:00 pm

Saturday:

Closed

Sunday:

Closed

*Open alternate Saturdays
Navigation