Invisalign® in Mississauga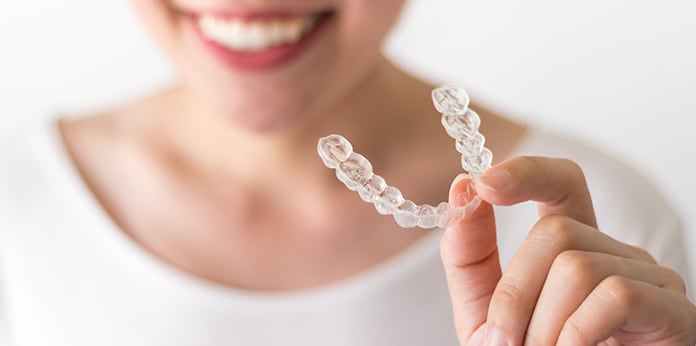 Choosing Invisalign® clear aligners from Creditview Dental in Mississauga can help you achieve a healthier smile without metal braces.
The Invisalign Difference
Invisalign clear aligners offer an alternative to metal braces when seeking a healthier smile.
Invisalign will gradually straighten your smile using a series of clear plastic aligners that are custom-made for your mouth. 
The aligners are conveniently removable, making them a potentially ideal option for busy adults and teens who want a straighter smile while staying active in everyday life.
iTero 3D Scanner
As part of the Invisalign treatment process, your dental team creates a 3D image of your teeth using the iTero 3D scanner. The detailed 3D image it creates helps us to provide you with Invisalign clear aligners that are customized to fit your smile at every step of the process. 
We will also be able to provide you with a preview of how your smile may appear after your treatment. 
Get Started with Invisalign
Fill out the form below to request an appointment with our Mississauga dentist to see if clear aligners are right for you.
How It Works
Based on a treatment plan that we develop from the 3D iTero image constructed from your smile, we will craft a series of clear custom aligners that are made to fit your teeth precisely during each stage of your treatment. You will wear each aligner for about two weeks and then replace it with the next one in your series.
This process will continue until your teeth are in their new positions. The length of your treatment will be determined by your dentist based on your specific case.
Welcoming New Patients
Looking for a dentist in Mississauga? You're in the right place!
Request Appointment
Location
6085 Creditview Rd Unit 8 & 9
Mississauga
ON
L5V 2A8
CA
Phone Number
Hours of Operation
Monday:

09:00 am - 06:00 pm

Tuesday:

09:00 am - 06:00 pm

Wednesday:

09:00 am - 06:00 pm

Thursday:

09:00 am - 06:00 pm

Friday:

09:00 am - 03:00 pm

Saturday:

Closed

Sunday:

Closed

*Open alternate Saturdays
Navigation