Dental Implants in Mississauga
At Creditview Dental, our Mississauga dentists use dental implants to replace patients' missing teeth.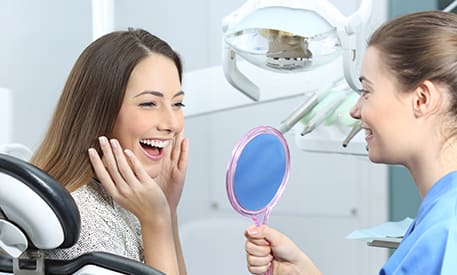 What are Dental Implants?
A dental implant is a small titanium anchor made is used to replace missing or failing teeth. An implant is surgically placed into bone to function like the root of a missing tooth and support a tooth replacement like a crown or a bridge. 
The Benefits
Before development of dental implants, dentures were the only alternative to replacing a missing tooth or teeth.
Dental implants can be used to replace a single lost tooth or many missing teeth and can address a number of oral health issues.
Today, implants are so well designed that they mimic the look and feel of natural teeth. Implants are usually made of a synthetic yet biocompatible material like metal or ceramic.
Candidates for Implants
Not everyone is a candidate for a dental implant. For a successful implant to take hold, a candidate must have proper bone density and a strong immune system.
If your jaw bone is not strong enough to support a dental implant, you may require a bone graft before it can be placed. 
The Procedure
The dental implant procedure requires three pieces: a titanium screw, an abutment, and a tooth replacement such as dental crown, bridge or denture. 
Your dentist will first place the titanium screw into the jaw bone. Following the procedure, a period of time is required for the implant to take hold and for bone tissue to build up and anchor the device.
Once the tissue has healed, your dentist will attach the abutment and tooth replacement to the screw, creating the appearance and function of a natural tooth. 
Like any dental restoration, implants require diligent oral hygiene and proper care to ensure they last a long time.
Welcoming New Patients
Looking for a dentist in Mississauga? You're in the right place!
Request Appointment
Location
6085 Creditview Rd Unit 8 & 9,
Mississauga,
ON
L5V 2A8
CA
Phone Number
Hours of Operation
Monday: 09:00 am - 06:00 pm
Tuesday: 09:00 am - 06:00 pm
Wednesday: 09:00 am - 06:00 pm
Thursday: 09:00 am - 06:00 pm
Friday: 09:00 am - 03:00 pm
Saturday: 09:00 am - 02:00 pm
Sunday: Closed

*Open alternate Saturdays