Dental Hygiene & Prevention in Mississauga
At Creditview Dental, our Hygiene Department is made up of five dental hygienists who provide preventive dental care to our Mississauga patients.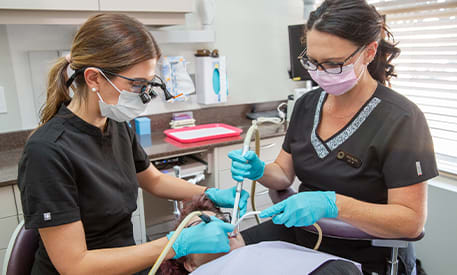 Preventive Dental Hygiene in Mississauga
Attending regular dental exams and cleanings and following a good daily oral healthcare routine at home are the best ways to help prevent any dental issues from developing and keep your smile healthy. 
Oral Examinations
Regular examinations at your dental office give your dentist a chance to identify any dental health issues and make a plan to treat them.  
During the exam, your dentist will take a close look at your teeth, gums and bite. Exams may also include dental X-rays and other diagnostic procedures as needed.
Hygiene Cleanings
Before or after your exam, your dental hygienist will perform a professional deep cleaning of your teeth.
They will begin by using a scaler to remove any tartar and plaque buildup in your mouth. Then they will use an electric polisher and coarse toothpaste to remove any leftover stains or plaque, followed by a thorough flossing of your teeth and gums.
Fluoride Treatment
Your cleaning may also include a fluoride treatment. Fluoride, a natural mineral, helps to rebuild the minerals in the enamel of your teeth to prevent or reverse tooth decay. 
At Creditview Dental, we provide fluoride treatment for adults and children who have a high risk of tooth decay to help strengthen tooth enamel and prevent decay. 
Preventive Care at Home
To maintain your oral hygiene between appointments, you should brush your teeth at least twice a day, for two minutes each time, as well as floss once a day, ideally before going to bed at night.
Welcoming New Patients
Looking for a dentist in Mississauga? You're in the right place!
Request Appointment
Location
6085 Creditview Rd Unit 8 & 9
Mississauga
ON
L5V 2A8
CA
Phone Number
Hours of Operation
Monday:

09:00 am - 06:00 pm

Tuesday:

09:00 am - 06:00 pm

Wednesday:

09:00 am - 06:00 pm

Thursday:

09:00 am - 06:00 pm

Friday:

09:00 am - 03:00 pm

Saturday:

Closed

Sunday:

Closed

*Open alternate Saturdays
Navigation