Endodontics (Root Canals)
At Creditview Dental in Mississauga, our dentist performs root canals to remove damaged pulp from the interior of a tooth and prevent the need for an extraction.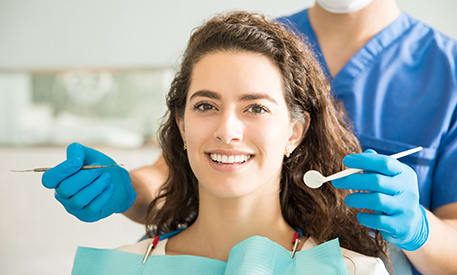 What Is Endodontics?
Endodontics is a branch of dentistry concerning dental pulp and tissues surrounding the roots of a tooth. Endodontic treatment, or a root canal, treats the soft pulp tissue inside the tooth.
What Is a Root Canal?
A root canal involves removing the diseased inner tooth root (blood vessels, nerves and other tissues) to halt the spread of infection and restore the healthy portion of the tooth.
Problems & Symptoms
Many tooth problems involve infections that spread to the pulp (inner chamber of the tooth). When the infection becomes worse, it can begin affecting the roots. A traumatic injury to a tooth can also compromise the pulp, leading to similar problems.
A diseased inner tooth brings a host of problems; pain and sensitivity are some of the first indications of a problem, but a spreading infection can cause small pockets of pus to develop internally, leading to an abscess.
The Procedure
Root canal therapy usually entails one to three visits.
First, a small hole is drilled through the top of the tooth and into the inner chamber. Diseased tissue is removed, the inner chamber is cleaned and disinfected and the tiny canals are reshaped.
The chamber and canals are then filled with an elastic material and medication designed to prevent infection. If necessary, the drilled hole is temporarily filled until a permanent seal is made with a crown.
Most patients who have a root canal experience little or no discomfort or pain and enjoy a restored tooth that can last almost as long as its healthy original.
Welcoming New Patients
Looking for a dentist in Mississauga? You're in the right place!
Request Appointment
Location
6085 Creditview Rd Unit 8 & 9
Mississauga
ON
L5V 2A8
CA
Phone Number
Hours of Operation
Monday:

09:00 am - 06:00 pm

Tuesday:

09:00 am - 06:00 pm

Wednesday:

09:00 am - 06:00 pm

Thursday:

09:00 am - 06:00 pm

Friday:

09:00 am - 03:00 pm

Saturday:

Closed

Sunday:

Closed

*Open alternate Saturdays
Navigation