Our Mississauga dentists perform gum grafts to help refresh the appearance of patients' smiles and to assist in reducing tooth sensitivity that can result from a receding gum line.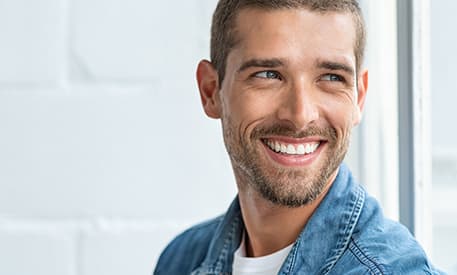 What Is a Gum Graft?
A gum graft is a surgical procedure in which gum tissue is taken from the roof of the mouth and transplanted onto another area of the gums to cover exposed tooth roots.
Treating Gum Recession
As gum disease progresses, the gum tissue pulls back from the teeth and exposes the tooth's root.
An exposed tooth root is susceptible to decay. If left untreated, it can cause severe tooth sensitivity and lead to eventual tooth loss.
A gum graft can help to repair the gums, reduce any associated symptoms and protect your oral health.
The Procedure
In many gum grafting procedures, the patient's own tissue is used, usually taken from the roof of the mouth.
A very thin piece of tissue is removed and carefully placed onto the area where the gums have receded.
The tissue is then carefully attached with fine sutures. 
Cosmetic Applications
Some patients may choose to have a gum graft for cosmetic reasons. A gum graft can also be used to remove excess gum tissue or to reshape an uneven gum line and help change the perceived size of the gums and teeth.
Welcoming New Patients
Looking for a dentist in Mississauga? You're in the right place!
Request Appointment
Location
6085 Creditview Rd Unit 8 & 9
Mississauga
ON
L5V 2A8
CA
Phone Number
Hours of Operation
Monday:

09:00 am - 06:00 pm

Tuesday:

09:00 am - 06:00 pm

Wednesday:

09:00 am - 06:00 pm

Thursday:

09:00 am - 06:00 pm

Friday:

09:00 am - 03:00 pm

Saturday:

Closed

Sunday:

Closed

*Open alternate Saturdays
Navigation