At Creditview Dental, our dentists use partial and full dentures to replace missing teeth and to help protect the oral health of patients in Mississauga.
About Dentures
Dentures are artificial teeth used to replace one missing tooth, several in a row or a whole jaw of missing teeth. They allow patients with missing teeth to maintain their facial structure as well as talk and eat properly.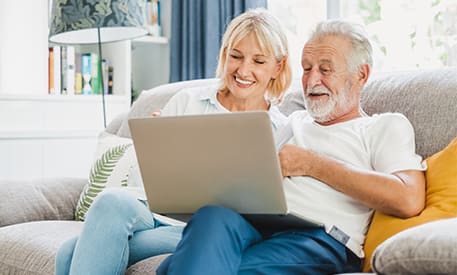 Full Dentures in Mississauga
Commonly referred to as false teeth, your dentist will use full dentures if you have a whole jaw of missing teeth.
Full dentures are fitted into an acrylic base that is crafted to look like your gums. The upper denture has a plate that covers the roof of the mouth while the lower denture rests securely on the gum and bone tissues. They can be removed for cleaning and sleeping.
If there is not enough gum tissue to support full dentures, dental implants may be used to help stabilize the dentures for a secure fit.
Partial Dentures in Mississauga
Your dentist will use partial dentures if you have more than a few missing teeth or your surrounding teeth are not strong enough for a dental bridge.
Partial dentures are made up of one or more artificial teeth held in place by clasps that fit onto your natural teeth or on a tooth replacement, such as a dental crown.
Patients with partial dentures can remove them for cleaning and sleeping.
Welcoming New Patients
Looking for a dentist in Mississauga? You're in the right place!
Request Appointment
Location
6085 Creditview Rd Unit 8 & 9
Mississauga
ON
L5V 2A8
CA
Phone Number
Hours of Operation
Monday:

09:00 am - 06:00 pm

Tuesday:

09:00 am - 06:00 pm

Wednesday:

09:00 am - 06:00 pm

Thursday:

09:00 am - 06:00 pm

Friday:

09:00 am - 03:00 pm

Saturday:

Closed

Sunday:

Closed

*Open alternate Saturdays
Navigation