Dental Crowns & Bridges in Mississauga
At Creditview Dental, our Mississauga dentists use dental crowns and bridges to replace missing or damaged teeth and to help refresh your smile. 
Crowns & Bridges in Mississauga
Dental crowns and bridges are types of tooth restoration that help refresh the appearance and function of natural teeth. Often made of porcelain material, they are custom-made and are barely noticeable, helping you achieve a natural-looking smile.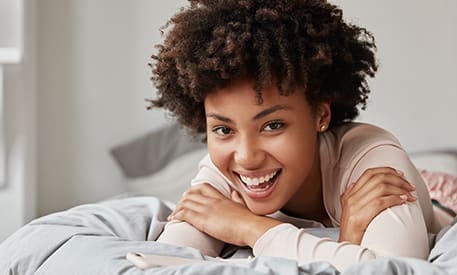 Dental Crowns in Mississauga
Crowns are synthetic caps, often made of porcelain, that are placed on the top of a tooth. They can be used to restore a tooth's function and appearance following a restorative procedure, such as root canal therapy.
Crowns are also used to attach bridges, cover dental implants or prevent a cracked tooth from becoming worse. They can also serve an aesthetic use to help restore a discoloured or stained tooth closer to its natural appearance.
Dental Bridges in Mississauga
Bridges are natural-looking dental appliances that can replace a section of missing teeth. Because they are custom-made, bridges are usually barely noticeable and can bring back the natural contour of teeth as well as the proper bite relationship between upper and lower teeth.
Bridges are sometimes referred to as fixed partial dentures because they are semi-permanent and bonded to existing teeth or implants. Unlike a removable bridge, which you can take out and clean, only your dentist can remove a fixed bridge.
Welcoming New Patients
Looking for a dentist in Mississauga? You're in the right place!
Request Appointment
Location
6085 Creditview Rd Unit 8 & 9
Mississauga
ON
L5V 2A8
CA
Phone Number
Hours of Operation
Monday:

09:00 am - 06:00 pm

Tuesday:

09:00 am - 06:00 pm

Wednesday:

09:00 am - 06:00 pm

Thursday:

09:00 am - 06:00 pm

Friday:

09:00 am - 03:00 pm

Saturday:

Closed

Sunday:

Closed

*Open alternate Saturdays
Navigation