Teeth Whitening in Mississauga
At Creditview Dental in Mississauga, we use the Zoom! teeth whitening system to help restore the smile of patients with stained, dull or discoloured teeth.
Professional Teeth Whitening in Mississauga
Professional teeth whitening performed at our dental office is considered to be both an effective and safe method for brightening your smile. Done properly, teeth whitening can last as long as five years.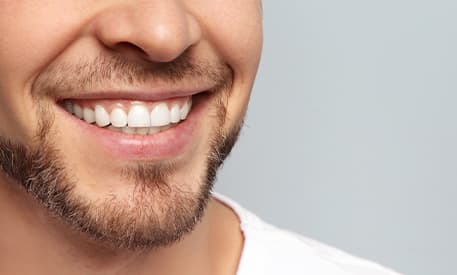 Why Teeth Darken
Over time, teeth actually become more absorbent and vulnerable to staining from food and other substances. The darker tissue of your teeth (the dentin) can become exposed as the outer layer of enamel is worn away.
Food particles are naturally attracted to a tooth's enamel, and products like coffee and tea, berries and soy sauce are notorious for staining teeth.
More and more people today are choosing tooth-whitening procedures to reverse the effects of aging and abuse from food and tobacco stains.
When Whitening Won't Work
Whitening agents are not effective on some types of stains. For example, they have a difficult time removing brownish or grayish stains.
These products also are not as effective on pitted or badly discoloured teeth, or on restorations such as crowns, bridges, bonding and tooth-coloured fillings. In these cases, porcelain veneers or dental bonding may be more appropriate.
Zoom!® In-Office Whitening System
At Creditview Dental, we use the safe, effective and fast tooth whitening system, Zoom! This system uses LED technology that minimizes post operative tooth sensitivity.
Before beginning treatment, your dentist will complete a thorough exam of your teeth and gums to ensure they are healthy enough to handle the bleaching process.
How Zoom! Works
If your dentist determines Zoom! is right for you, they will being by isolating your lips and gums. Next, they will apply the Zoom! whitening gel, which contains specifically formulated, pH balanced hydrogen peroxide, on the teeth.
To activate the Zoom! whitening gel, your dentist applies a specially designed, low-heat light that penetrates the teeth. During this process, the hydrogen peroxide in the gel attaches to stained molecules on the teeth, weakening them. This allows oxygen to enter the tooth enamel and lighten them.
Your dentist will repeat this twenty-minute gel application two more times for the Zoom! teeth whitening system to reach its full effect. 
The Truth About Over-the-Counter Whitening Products
Some commercially available whitening products can be somewhat effective at removing stains and making teeth a few shades brighter. However, many of these products have abrasive substances that can actually wear away your tooth's enamel.
Welcoming New Patients
Looking for a dentist in Mississauga? You're in the right place!
Request Appointment
Location
6085 Creditview Rd Unit 8 & 9
Mississauga
ON
L5V 2A8
CA
Phone Number
Hours of Operation
Monday:

09:00 am - 06:00 pm

Tuesday:

09:00 am - 06:00 pm

Wednesday:

09:00 am - 06:00 pm

Thursday:

09:00 am - 06:00 pm

Friday:

09:00 am - 03:00 pm

Saturday:

Closed

Sunday:

Closed

*Open alternate Saturdays
Navigation