Full-Mouth Restorations in Mississauga
At Creditview Dental in Mississauga, our dentists will work with you to create a full-mouth restoration plan to address all of your needs and help restore your smile.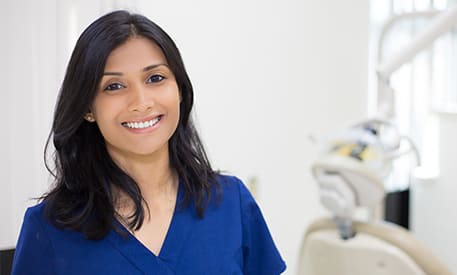 Restore Your Entire Smile!
Our dentists can develop a restorative treatment plan that consists of a variety of cosmetic and general dental procedures. This customized plan allows us to complete all the dental procedures you need, but in fewer appointments.
Coordinated Approach to Care
Full-mouth restorations are a cohesive approach to cosmetic treatment.
Some patients require a variety of dental treatments, both cosmetic and general, to achieve their goals for their smiles.
In these cases, your dentist will develop a carefully mapped out plan, which allows us to coordinate the different types of treatments you need for the most efficient results.
Treatment Options
Dental diseases, trauma to the mouth, and poor oral hygiene habits can all contribute to a patient's desire to restore their smile. 
No matter what your reasons are, we are happy to work with you to customize a plan that meets your needs. 
A treatment plan can consist of any of the dental services offered at our Mississauga dental office. 
Welcoming New Patients
Looking for a dentist in Mississauga? You're in the right place!
Request Appointment
Location
6085 Creditview Rd Unit 8 & 9,
Mississauga,
ON
L5V 2A8
CA
Phone Number
Hours of Operation
Monday:

09:00 am - 06:00 pm

Tuesday:

09:00 am - 06:00 pm

Wednesday:

09:00 am - 06:00 pm

Thursday:

09:00 am - 06:00 pm

Friday:

09:00 am - 03:00 pm

Saturday:

Closed

Sunday:

Closed

*Open alternate Saturdays
Navigation